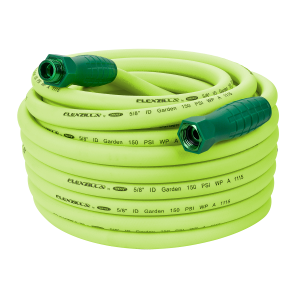 Revolutionary, kink-free Flexzilla® Premium Air Hose was a game-changer that has upped the ante for a traditional commodity product. It's durable, it's field-repairable and it's made with a high-quality Hybrid Material that stays flexible down to 40 degrees below zero. Extreme all-weather flexibility quickly made Flexzilla the industry leader. Then Flexzilla Garden and Water Hoses revolutionized gardens, yards and work sites.
Lightweight, user-friendly ZillaGreen™ hose will not kink under pressure. Unlike heavy, stiff, old‑style hoses, it works with you, not against you. Users find Flexzilla fun and easy to use. And now Flexzilla Electrical Cords, Pressure Washer Hoses and other products are available to make work and domestic chores easier than ever. Leading‑edge technology and premium hose and cord materials give Flexzilla a serious edge over traditional products.
Follow us on social media
View the Legacy Manufacturing Full Line Catalog
Our full line product catalog can be viewed on your desktop or tablet. Or call 800-645-8258 to inquire about our product line.
The color CHARTREUSE as applied to the body of hoses and power cords is a trademark owned by Weems Industries, Inc.  U.S. Pat. & Tm. Off. Reg. No. 4,827,169